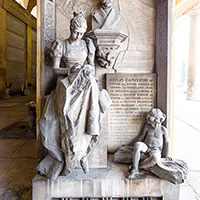 Romeo Cristani
Verona 1855 – Verona 1920
Romeo Cristani was born in Verona on the 21st of May 1855. He began his artistic career with painting, demonstrating a particular aptitude for the art of engraving. Later, an eye defect forced him to devote himself exclusively to sculpture.
After teaching at the Academy of Fine Arts G.B. Cignaroli, he became Director of the Art School Brenzoni in Sant'Ambrogio di Valpolicella, a position he held until 1910. Working mainly in Verona, he created the statue of Paolo Veronese, of King Umberto I of Savoy and the bust of Scipione Maffei for the high school of the same name. On the inside the Monumental Cemetery are his funerary monuments of Girolamo Bovio, the Zainer family, Giulio Camuzzoni, Antonio Aymo, the Ferrari-Rebonato family, General Teresio Bocca and Clementina Cavalli Zanella.
He died in Verona on the 11th of January 1920.