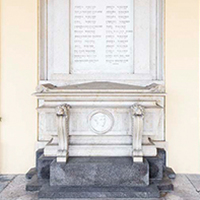 Ettore Fagiuoli
Verona 1884 – Verona 1961
Ettore Fagiuoli was born in Verona on the 3rd of September 1884. In 1908, he graduated in architecture from the Politecnico di Milano. On his return to Verona, he dedicated himself to the design of many Art Nouveau villas in the neighbourhood of Borgo Trento.
A famous scenographer, during World War I he spent a year on the Asiago plateau and then settled in Rome as a military architect. Once back in Verona he devoted himself to several projects, such as the Fiat garage, the renovation of the Ghetto area, construction of the post office building and the Ponte della Vittoria and the restoration of Castelvecchio.
In the 1930s, he won the contest for works to the Palazzo del Bo in Padua and he created the Mausoleum of Cesare Battisti on the Doss Trento hill. During the second world war he took refuge in Genoa, where he devoted himself mainly to the creation of etchings. He died in Verona on the 19th of March 1961.