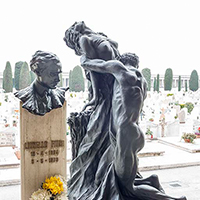 Ruperto Banterle
Milano 1889 - Gombion 1968
Ruperto Banterle was born on the 19th September 1889 in Milano. From adolescence, he showed a predisposition for art and hence, he enrolled at the Academy of Fine Arts in Genoa, whilst attending at the same time, the studio of the sculptor Giovanni Scanzi. In 1911, he settled in Paris, where he discovered the works of Auguste Rodin, Medardo Rosso, Camille Claudel and Antoine Bourdelle.
He returned to Verona for political reasons, where he opened a studio and created several funerary monuments, including the one for the mother of his friend Lionello Fiumi, L'Anelito Fuggente. At the outbreak of the Great War he was called to fight in the Karst region and in Albania. In the 1930s he worked on important public commissions for the city of Verona, creating the sculptural groups of the Casa del Mutilato, designed by the architect Francesco Banterle, his brother, and the Garibaldi bridge, which were destroyed during the Second World War.
In the years following the war, he moved back to Milan, where he continued his activities whilst also working in Verona for portraits and works of sacred and funerary art. In 1955, he produced the statue of Simon Bolivàr for the Orinoco ironworks in Venezuela. He died on the 20th of July 1968 at his home in Gombion, a hamlet of Belfiore d'Adige, in the province of Verona.
[/vc_column][/vc_row]