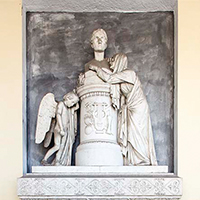 Grazioso Spazzi
Milan 1816 – Verona 1892
Grazioso Spazzi was born on the 15th of August 1816 and was the eldest son of the sculptor Antonio. A pupil of Innocenzo Fraccaroli, he made his debut at the Verona Exhibition of 1835.
There are numerous funerary monuments created by him within the Monumental Cemetery of Verona starting dating from 1842, while in the 1870s, he worked accompanied by sons Carlo and Attilio.
Also active in Rovigo and Vicenza, he died in Verona on the 12th of September 1892.