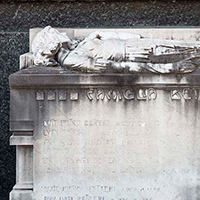 Ruggero Dondé
Rimini 1878 – Verona 1957
Ruggero Dondé was born in Rimini on the 20th of June 1878. From childhood, he demonstrated a great predisposition for art and, once enrolled at the Academy of Fine Arts G.B. Cignaroli, he attended the sculpture course taught by Egidio Girelli. After debuting with the creation of a commemorative plaque of a Risorgimento battle at Oliosi di Castelnuovo del Garda, he continued to be active with important works preserved in the Monumental Cemetery of Verona.
In 1919, for Peschiera del Garda, he created the monument dedicated to the fallen of the Great War in which the sculptor participated as a soldier, inaugurating the first of a long series of commemorative works created in the Verona area.
An academic teacher, during his career he participated in numerous national exhibitions, creating portraits, works of funerary art and commemorative plaques for the fallen. He died on the 3rd of July 1957: his plaque, preserved in the Monumental Cemetery of Verona, has his self-portrait in bas-relief.