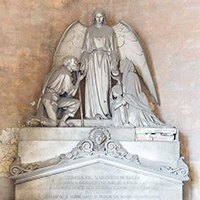 Luigi Ferrari
Venice 1810 – Venice 1894
Luigi Ferrari was born in Venice on the 21st of June 1810. A precocious and talented student, he trained at the Academy of Fine Arts in Venice. Starting from 1834, he received several public and private commissions. During the annual exhibitions of Brera of 1837 and 1838, his works were a great success with both the public and critics.
During the revolts of 1848, he was elected to the Assembly of Deputies for the province of Venice. In 1850 the Austrian Government deputised him to the Chair of Sculpture, and in 1851 he was appointed Professor, a position which he held until 1890.
His funerary sculptures are preserved within the cemeteries of Venice, Trieste and Verona, where he is one of the few "outsider" sculptors. He died in Venice on the 13th of May 1894.