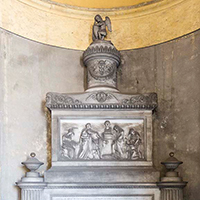 Innocenzo Fraccaroli
San Pietro in Cariano 1805 – Milan 1882
Innocenzo Fraccaroli was born in Castelrotto di San Pietro in Cariano, province of Verona, on the 28th of December 1805.
Heir to the neoclassical teachings of Canova, he trained at the Academy of Fine Arts in Venice. Thanks to his talent, in 1829 he won a specialisation trip to Rome during which time, under the guidance of Bertel Thorvaldsen, he created works in the neoclassical style that gave him great notoriety at the Universal Expositions of London and Paris.
Despite transferring to Milan, he maintained contact with his clientele from Verona and carried out numerous funerary works for the Monumental Cemetery of Verona, such as the Monumento Bonomi, the Monumento Emilei, and the Monumento Tessari, which was destroyed during the bombings of 1944.
Some of his works are preserved in several churches in the provinces of Verona and Brescia, as well as in the chapel of the Saviour of the Cathedral of Bergamo. In 1881, he created the Monument to Vittorio Emanuele II for Legnago. He died in Milan on the 18th of April 1882.