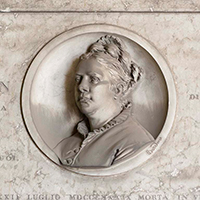 Pietro Bordini
Verona 1853 – Verona 1922
Pietro Bordini was born in Verona on the 18th February 1853 and trained at the Academy of Fine Arts in the city.
Together with Romeo Cristani, in 1882, he created the Monument for the Battle of Santa Lucia located in the quarter of Verona of the same name. He then created numerous statues of Garibaldi for various cities, including Verona, Mantua and Iseo. From 1874, he created numerous busts and clipei for the Verona Protomoteca, now kept in the Civic Library.
The sculptor signed several works preserved in the Monumental Cemetery of Verona and in other cemeteries of the province. He died on 27 April 1922.