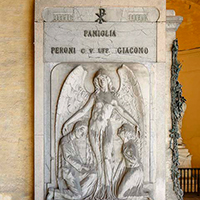 Egisto Zago
Bovolone 1884 – Verona 1960
Egisto Zago was born in Bovolone, in the province of Verona on the 14th of July 1884 and learned the basics of marble processing in his father's workshop. At the age of 16 he enrolled at the Academy of Fine Arts G.B. Cignaroli di Verona, under the guidance of Egidio Girelli. Later, he attended the Brera Academy, where he obtained the highest recognitions.
During the First World War he was recruited into the 73rd Infantry Regiment, but still managed to carry on his activity as a sculptor. He became known in the immediate post-war period, creating numerous war memorials sometimes in collaboration with the sculptor Eugenio Prati, with whom he shared a studio in the church of San Bernardino.
With the consolidation of fascism, his career was hindered with numerous difficulties: his opposition to the regime prevented him, in fact, from participating in public competitions. He continued, therefore, operating mainly for individuals, excelling in portraiture and cemetery art. After the second world war he operated in Italy and abroad, mainly in Belgium, Austria and France. He died in Verona on the 30th of July 1960.