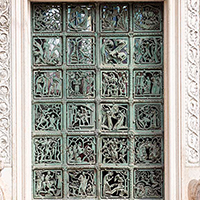 Mario Salazzari
Lugagnano di Sona 1904 - Verona 1993
Mario Salazzari was born in Lugagnano di Sona, in the province of Verona, on the 16th of November 1904. Due to the poor economic conditions of his family, he received an interrupted education His talent for drawing was noticed by the sculptor Eugenio Prati, who hired him in his brother's funerary art workshop.
In 1920, he won the competition for the War Memorial to be built in the Borgo Roma district of Verona. The success achieved allowed him to acquire many other public positions, such as the construction of the equestrian groups of the bridge of Ponte della Vittoria which was inaugurated in 1941.
During World War II he was involved in the Resistance: tortures inflicted during captivity compromised the use of his hand right, so much so that to continue working he had to learn to use only the left. In 1947, his Monumento al Partigiano (Monument to the Partisan) was inaugurated in Piazza Brà. Starting from the 1950s, he devoted himself mainly to small-sized works of mythological themes and to the funerary sculpture, of which there are interesting examples inside the Monumental Cemetery of Verona.
In the last period of his life he devoted himself almost entirely to poetry. He died in Verona on the 6th of June 1993.    [/vc_column][/vc_row]