Presentation of the book "Il Cimitero Monumentale di Verona"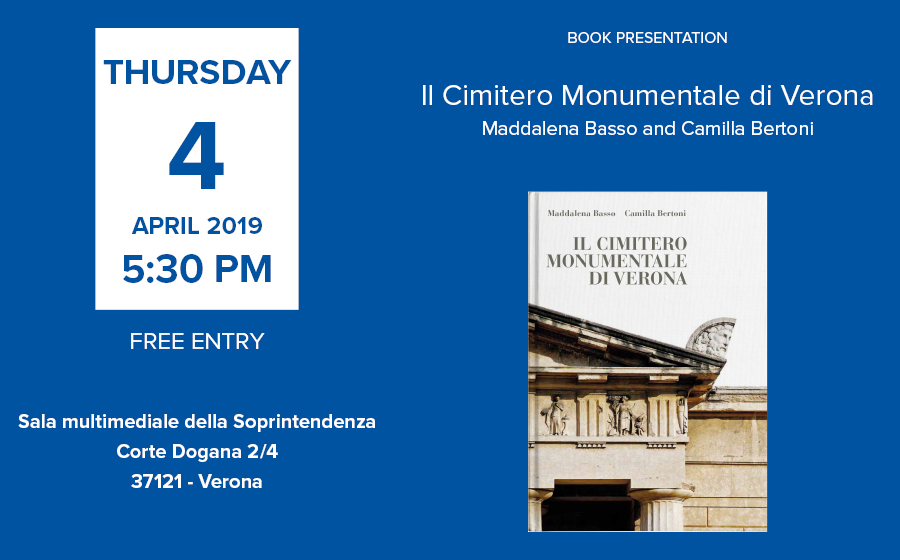 This event has ended
Date

4 April 2019

Time

17:30
On Thursday April 4th at 5.30 pm the book "Il Cimitero Monumentale di Verona" by Maddalena Basso and Camilla Bertoni will be presented in the multimedia room of the Superintendency in Corte Dogana 2/4.
The volume, in addition to representing an important part of the work of enhancing the artistic heritage of the nineteenth and twentieth century Verona, is a real guide that was created to accompany visitors to the Monumental Cemetery of Verona to discover an unexpected museum, guardian of two centuries of city history and precious masterpieces of funerary art, tracing a path that from the sepulchers of the Barbieri Cemetery, passing through the New Cemetery, reaches the tombs of the Garden Cemetery.
The meeting with the two authors Maddalena Basso, historian of architecture, and Camilla Bertoni, art historian, will be moderated by Paola Marini, art historian and former director of the Civic Museums of Verona and the Galleries of the Academy of Venice . The presentation will be introduced by Fabrizio Magani, Archeology superintendent, fine arts and landscape for the provinces of Verona, Rovigo and Vicenza, and Roberto Niccolai, president of the board of directors of AGEC.
The initiative is free and requires no reservation.